20mg Elf Bar CR500 Disposable Vape Pod 500 Puffs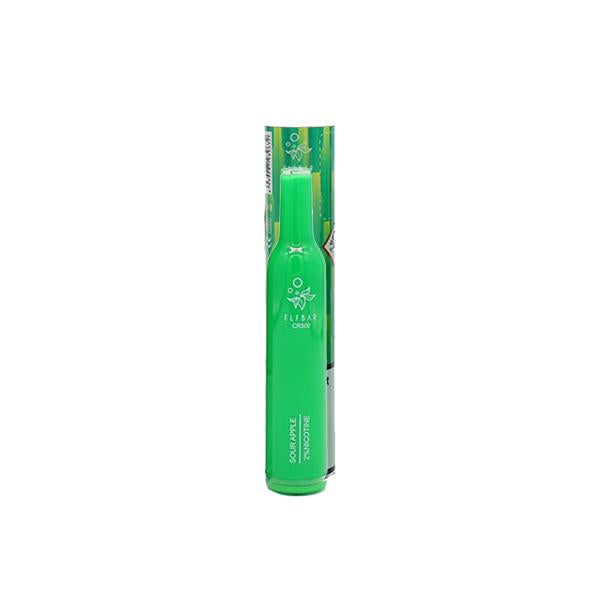 20mg Elf Bar CR500 Disposable Vape Pod 500 Puffs
Regular price £5.99 Sale
Looking like a miniature glass of wine that you can hold in your hand, the Elf Bar CR500 Disposable Vape Pod brings a similar vaping elegance to what it offers.
Fuelled by an integrated 400mAh battery and a pre-filled 2ml juice, the Elf Bar CR500 offers up to 500 puffs of vaping purity in the form of multiple delightful and distinctive flavours on offer.
To go with the aforementioned elegance, each of the flavours comes with a crystal like appearance similar to a birthday stone. The Elf Bar CR500 even handles and tastes as wonderful as it looks during vaping.
Specifications:
- Size: 95 x 18.7mm
- 2% (20mg) Nicotine Strength
- E-juice Capacity: 2ml Pre-Filled
- Battery: 400mAh (Built-In)
- Puffs: Approximately 500 puffs
- Unique Wine Bottle Design
- Crystal like look for each Flavour
- Mellow Tasting
Box Contains:
- 1x Elf Bar CR500 Disposable Vape Device 400mAh
Artisan Vapor & CBD strives to ship every order at the earliest. However, we cannot guarantee when your order will be at your doorstep after shipping.

Schedule: Orders received before 12pm on Monday-Friday will be shipped on the same day. However, all the orders received after 12pm on Monday-Thursday will be shipped next day in the morning. Orders placed after 12pm on Friday will be shipped on next business day in the morning. (Provided the items are in stock)

Note: Schedule of shipping can vary during bank holidays. Free delivery for orders over £30 and under £30 there will be charge you can select at the checkout.

Services: Royal mail Yodel Hermes DPD We use all recognized and credible carrier services. According to both carrier services, all domestic orders are shipped within 1-2 business days.

Note: We treat your orders with extreme precautionary measures, but we cannot guarantee that the carrier services will also do the same. Furthermore, we cannot be accountable for any mistakes or errors made by carrier services in delivering your package.

Shipping Rates: Shipping rates vary Depending On service you select and basket value.

Note: You can select different means of shipping at checkout that will not only vary the rates but will also vary the time of delivery.
Online Return Policy
Returns & exchanges are only acceptable for items with 

manufacturing defects 

within 

30 days

 of original purchase

. 

(conditions apply)

Returns & exchanges must be in 

new condition with original parts and packaging.

Items can only be 

exchanged

 for other items of similar value. Customer agrees to pay any difference.

If 

refunds

 is requested it will only be in the 

original form of payment.

Shipping charges are non-refundable.

Select items with normal wear & tear defects are 

not covered under the return & exchange policy.

Such items may include, but are not limited to, 

Internal battery devices

 that may stop holding charge due to improper usage/overcharging.

Any item with 

visible physical damage

 cannot be returned or exchanged. Regardless of any other issues.

No returns

 accepted for items exposed to 

extreme temperatures, any liquid damage, improper handling, accidental drops or breaks. 

This includes, but is not limited to, 

tanks with

 

broken glass

, 

tank /pod /cartridge leaks,

 and 

broken USB charging port

 due to mishandling etc.

Many 

products

 in the industry are 

NOT covered under the Returns & Exchange Policy 

or 

warranty

 either by the manufacturer or by Artisan Vapor & CBD due to sanitary reasons and their sensitive nature. These may include but are not limited to:

E-liquids, Salt nic

Replaceable Coils, Atomizers, Pods, Cartridges

Rebuildable and Prebuilt Products & Supplies (RDAs, RTAs, RBAs etc.) except for DOA products

Batteries

Tips & Mouthpieces

Mechanical Mods (including Squonk devices)
To claim a successful exchange or refund or return for a defective product, please notify us via email at avcukoperations@gmail.com customer will pay all additional shipping charges)  
Store Return Policy
Returns & exchanges are only acceptable for items with 

manufacturing defects 

within 

30 days

 of original purchase

. 

(conditions apply)

All returns & exchanges must be accompanied by 

original receipt.

Returns & exchanges must be in 

new condition with original parts/packaging.

Returns & exchanges can only be accepted at the 

original purchase location.
Qualifying Items

 can only be 

exchanged

 for other items of similar value. (customer agrees to pay any diference)

If 

refund

 is requested and approved, it can 

only be in the form of store credit

, not in the original payment form.

Select items have known wear & tear defects that will be communicated at the time of purchase. 

These defects are not covered under the return & exchange policy.

Such items may include, but are not limited to, the 

internal battery devices

 that may stop holding charge due to improper usage/overcharging.

Any item with visible physical damage cannot be returned or exchanged. Regardless of any other issues.

No returns

 accepted for items exposed to 

extreme temperatures, any liquid damage or improper handling, accidental drops or breaks. 

This includes, but is not limited to, tanks with 

broken glass

, Tank /Pod /Cartridge 

leaks of any kind,

 and 

broken USB charging port

 due to mishandling etc.

Many 

products

 in the industry are 

NOT covered under

 the 

Returns & Exchange Policy

 or  

warranty

 either by the manufacturer or by Artisan Vapor & CBD due to sanitary reasons and their sensitive nature. These may include but are not limited to:

E-liquids, Salt Nic

CBD

Replaceable Coils, Atomizers, Pods, Cartridges

Rebuildable and Prebuilt Products & Supplies (RDAs, RTAs, RBAs etc.) except for DOA products

Batteries

Tips & Mouthpieces

Mechanical Mods (including Squonk devices)

JUUL products are to be dealt by the manufacturer directly. 

No returns

 will be accepted at the store. Keep the original packaging for serial number

No returns will be accepted on CBD products

No returns will be accepted on disposable devices