10mg ELFLIQ By Elf Bar 10ml Nic Salt (50VG/50PG)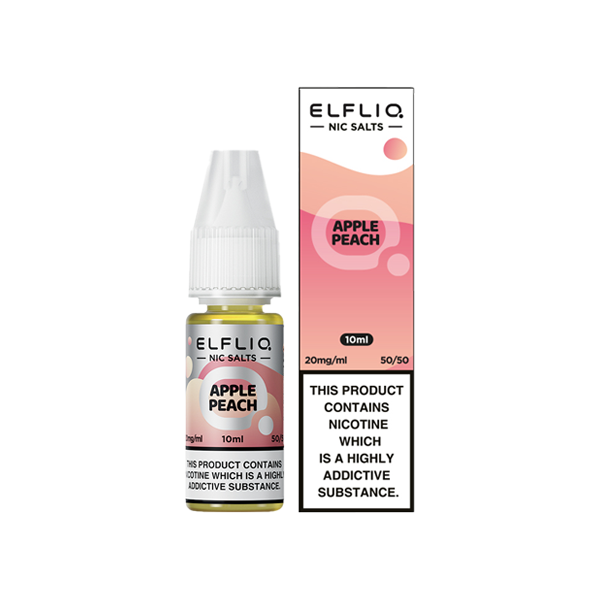 10mg ELFLIQ By Elf Bar 10ml Nic Salt (50VG/50PG)
Regular price £2.00 Sale
Taking their popular range of disposable vapes and recasting them as 10ml nicotine salt e-liquids, these 10mg ELFLIQ By Elf Bar Nic Salts brilliantly recreates such flavours found in Elf Bar's own sought after range. With 21 tantalising flavours to choose from, you'll sure to find at least one new favourite among this sure-to-please range of nic salts.

With 50VG/50PG balanced concentration, these ELFLIQ Nic Salts are perfect for MTL (Mouth to Lung) vaping devices and kits. Once vaped, they produce small amounts of vapour with a smooth hit to the throat that will satisfy ex-smokers to fulfil such cravings.
Made In The UK
10mg Nicotine Salt
10ml Bottle
50VG/50PG
Perfect for MTL Vaping Devices & Kits
Childproof Cap & Tamper Evident Seal
Recyclable Bottle & Box
TPD Compliant
Flavours:
Apple Peach
Your taste buds will be in heaven with this combination of sweet, ripe apples and juicy peaches. With just the right amount of sweetness, you'll want to vape the Apple Peach ELFLIQ all day long.

Blue Razz Lemonade
The Blue Razz Lemonade ELFLIQ is a delectable mix of blue raspberry and lemonade to create a mouth watering and juicy flavour

Blueberry
Blueberry ELFLIQ has a sweet, tangy taste that is perfect for any season. The refreshing berry flavour will delight your taste buds, and the smooth throat hit will leave you wanting more.

Blueberry Sour Raspberry
The Blueberry Sour Raspberry ELFLIQ features fresh, ripe blueberries combined with tangy raspberries to create a delicious flavour. Every inhale is sweet and fruity, while the exhale is slightly tart and sweet.

Cherry
Looking for a delicious, cherry-flavoured e-liquid that will tantalise your taste buds? Look no further than Cherry ELFLIQ! This premium Nic Salt e-liquid is perfect for those who crave the sweet taste of ripe cherries. The sweet, tart flavour is perfectly balanced, making it a delightful vape. Whether you're looking for an all-day vape or just a tasty treat, Cherry ELFLIQ is sure to please.

Cherry Cola
Introducing Cherry Cola ELFLIQ: the most delicious way to get your nicotine fix! It's the perfect blend of tart and sweet, with a fizzy kick that'll leave you feeling refreshed and invigorated.

Cola
Looking for a delicious, refreshing e-liquid that will tantalise your taste buds? Look no further than Cola ELFLIQ! This gorgeously fizzy nic salt e-liquid is perfect for those who love the taste of classic cola.

Cotton Candy Ice
The Cotton Candy Ice ELFLIQ is sweet yet refreshing. The sweetness of the cotton candy isn't overpowering, and the menthol adds a hint of coolness to the flavour that makes it perfect for vaping all day long.

Cream Tobacco
The Cream Tobacco ELFLIQ is a tobacco flavour with a sweet cream base. The tobacco flavour is bold and flavourful, while the cream gives it a smooth finish. It's the perfect tobacco flavour for anyone who wants to enjoy the classic taste of tobacco without any bitterness.

Elfbull Ice
The Elfbull Ice ELFLIQ provides an explosion of flavour with a powerful punch of energy drink and sweet mixed berries. This e-liquid will make a delicious and invigorating vape at any time of the day.

Grape
Introducing Grape ELFLIQ , the newest and most delicious grape-flavoured Nic Salt e-liquid on the market! This perfect blend of sweet and crisp notes tastes excellent and is sure to satisfy your cravings.

Kiwi Passion Fruit Guava
Kiwi Passion Fruit Guava ELFLIQ is an amazing blend of three delicious and exotic fruits. Guava, kiwi, and passionfruit come together to create a vape juice like no other for a tropical eruption with every exhale. With the smoothest of throat hits, Kiwi Passion Fruit Guava ELFLIQ will leave you feeling satisfied after each puff. But don't take our word for it - try it for yourself and see!

Mango
Looking for a delicious and exotic e-liquid? Look no further than Mango ELFLIQ! This tantalising e-juice is infused with the sweet and juicy mango flavour, making it the perfect choice for those who crave a fruity vape.

Peach Ice
Looking for a peachy way to enjoy your nicotine fix? Try the Peach Ice ELFLIQ today! It's packed with juicy peach flavours with a cooling menthol blast that will leave you refreshed. Plus, the Peach Ice ELFLIQ e-liquid contains salt nicotine for a smooth and satisfying vape.

Pink Grapefruit
The Pink Grapefruit ELFLIQ is the perfect balance of tangy and sweet. The aroma is unmistakable, and the taste is delicious. If you're looking for a flavour that will remind you of a relaxing morning at the beach, this is the one for you.

Pink Lemonade
Try the Pink Lemonade ELFLIQ and experience a sweet, tangy vape that will transport you to paradise. The inhale is a mouthful of tart lemonade with a hint of sweetness, while the exhale is a burst of sweet, juicy berries. With a smooth and satisfying throat hit, this will be your new favourite e-juice.

Spearmint
Mint lovers, rejoice! The Spearmint ELFLIQ will satisfy your craving for a fresh, cool taste. Its spearmint flavour is true to the name, with a cool and refreshing feel. Your mouth will be left feeling fresh and your taste buds wanting more.

Strawberry Ice
Looking for a delicious, icy treat? Look no further than Strawberry Ice ELFLIQ! This delicious e-liquid is packed with juicy strawberry flavour, and a hint of menthol for a refreshing kick. Perfect for a hot summer day or anytime you need a little pick-me-up, Strawberry Ice ELFLIQ is sure to please.

Strawberry Ice Cream
Looking for a luscious and creamy e-liquid? Look no further than ELFLIQ's Strawberry Ice Cream! The fresh, ripe strawberry flavour is balanced perfectly with the rich and creamy ice cream base, making for a genuinely irresistible e-liquid.

Strawberry Kiwi
Looking for an e-liquid that's both delicious and refreshing? Look no further than Strawberry Kiwi ELFLIQ! This fantastic flavour combines the sweetness of strawberries with the tartness of kiwis, creating a vape juice perfect for any time of day.

Watermelon
The Watermelon ELFLIQ is packed with refreshing, juicy and sweet flavours to create a smooth and delicious vaping experience. If you are looking for an appetising e-juice that will transport you to a tropical island, this is the flavour for you.
Artisan Vapor & CBD strives to ship every order at the earliest. However, we cannot guarantee when your order will be at your doorstep after shipping.

Schedule: Orders received before 12pm on Monday-Friday will be shipped on the same day. However, all the orders received after 12pm on Monday-Thursday will be shipped next day in the morning. Orders placed after 12pm on Friday will be shipped on next business day in the morning. (Provided the items are in stock)

Note: Schedule of shipping can vary during bank holidays. Free delivery for orders over £30 and under £30 there will be charge you can select at the checkout.

Services: Royal mail Yodel Hermes DPD We use all recognized and credible carrier services. According to both carrier services, all domestic orders are shipped within 1-2 business days.

Note: We treat your orders with extreme precautionary measures, but we cannot guarantee that the carrier services will also do the same. Furthermore, we cannot be accountable for any mistakes or errors made by carrier services in delivering your package.

Shipping Rates: Shipping rates vary Depending On service you select and basket value.

Note: You can select different means of shipping at checkout that will not only vary the rates but will also vary the time of delivery.
Online Return Policy
Returns & exchanges are only acceptable for items with 

manufacturing defects 

within 

30 days

 of original purchase

. 

(conditions apply)

Returns & exchanges must be in 

new condition with original parts and packaging.

Items can only be 

exchanged

 for other items of similar value. Customer agrees to pay any difference.

If 

refunds

 is requested it will only be in the 

original form of payment.

Shipping charges are non-refundable.

Select items with normal wear & tear defects are 

not covered under the return & exchange policy.

Such items may include, but are not limited to, 

Internal battery devices

 that may stop holding charge due to improper usage/overcharging.

Any item with 

visible physical damage

 cannot be returned or exchanged. Regardless of any other issues.

No returns

 accepted for items exposed to 

extreme temperatures, any liquid damage, improper handling, accidental drops or breaks. 

This includes, but is not limited to, 

tanks with

 

broken glass

, 

tank /pod /cartridge leaks,

 and 

broken USB charging port

 due to mishandling etc.

Many 

products

 in the industry are 

NOT covered under the Returns & Exchange Policy 

or 

warranty

 either by the manufacturer or by Artisan Vapor & CBD due to sanitary reasons and their sensitive nature. These may include but are not limited to:

E-liquids, Salt nic

Replaceable Coils, Atomizers, Pods, Cartridges

Rebuildable and Prebuilt Products & Supplies (RDAs, RTAs, RBAs etc.) except for DOA products

Batteries

Tips & Mouthpieces

Mechanical Mods (including Squonk devices)
To claim a successful exchange or refund or return for a defective product, please notify us via email at avcukoperations@gmail.com customer will pay all additional shipping charges)  
Store Return Policy
Returns & exchanges are only acceptable for items with 

manufacturing defects 

within 

30 days

 of original purchase

. 

(conditions apply)

All returns & exchanges must be accompanied by 

original receipt.

Returns & exchanges must be in 

new condition with original parts/packaging.

Returns & exchanges can only be accepted at the 

original purchase location.
Qualifying Items

 can only be 

exchanged

 for other items of similar value. (customer agrees to pay any diference)

If 

refund

 is requested and approved, it can 

only be in the form of store credit

, not in the original payment form.

Select items have known wear & tear defects that will be communicated at the time of purchase. 

These defects are not covered under the return & exchange policy.

Such items may include, but are not limited to, the 

internal battery devices

 that may stop holding charge due to improper usage/overcharging.

Any item with visible physical damage cannot be returned or exchanged. Regardless of any other issues.

No returns

 accepted for items exposed to 

extreme temperatures, any liquid damage or improper handling, accidental drops or breaks. 

This includes, but is not limited to, tanks with 

broken glass

, Tank /Pod /Cartridge 

leaks of any kind,

 and 

broken USB charging port

 due to mishandling etc.

Many 

products

 in the industry are 

NOT covered under

 the 

Returns & Exchange Policy

 or  

warranty

 either by the manufacturer or by Artisan Vapor & CBD due to sanitary reasons and their sensitive nature. These may include but are not limited to:

E-liquids, Salt Nic

CBD

Replaceable Coils, Atomizers, Pods, Cartridges

Rebuildable and Prebuilt Products & Supplies (RDAs, RTAs, RBAs etc.) except for DOA products

Batteries

Tips & Mouthpieces

Mechanical Mods (including Squonk devices)

JUUL products are to be dealt by the manufacturer directly. 

No returns

 will be accepted at the store. Keep the original packaging for serial number

No returns will be accepted on CBD products

No returns will be accepted on disposable devices